Prescription Drug Abuse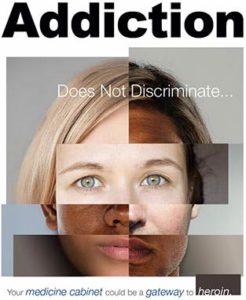 Prescription Drug Medications that are most commonly abused are Pain Relievers, Depressants, and Stimulants. Much of the news stories today talk about Prescription Drug Opiate Abuse (the Pain Relievers) which can also lead to Heroin Abuse.
Nearly 110 Americans die every day from drug-related overdoses, and about half of those overdoses are related to opioids, a class of drug that includes prescription pain killers and heroin.
In New Jersey, the number of admissions for prescription drug addiction treatment rose by 230% from 2005 to 2010.
In a growing trend, New Jersey teens who abused prescription drugs went on to become addicted and turned to heroin use.
Drug overdose deaths now surpass the number of deaths resulting from motor vehicle accidents, which had always been the leading cause of accidental death in the United States.
 According to the Centers for Disease Control, 45% of people who used heroin were also addicted to prescription opioid painkillers. Between 2002 and 2013, the rate of heroin-related overdose deaths nearly quadrupled, and more than 8,200 people died in 2013.
Opioid use disorder, or addiction to prescription opioids or heroin, is a disease that touches too many of our communities and we must educate our residents and visitors about the harms and risks associated with the addictive qualities of opioid pain medicines, which many can access in their own medicine cabinets at home.
Examples of Prescription Drug Opiates that are fueling the addiction problem include, but are not limited to, Oxycotin, Vicodin, and Percocet. These medicines are often prescribed for pain. These drugs are highly addictive. Once addicted, the cost of purchasing the pill supplies becomes too expensive. Heroin is cheaper to buy and easy to get which intensifies the transition to using heroin and results in heroin addiction.
Examples of Prescription Drug Depressants are Xanax, Valium, Ativan which are prescribed to treat anxiety, panic attacks and sleep disorders.
Examples of Prescription Drug Stimulants are Ritalin, Dexedrine, Adderall, Concerta which are prescribed for attention-deficit/hyperactivity, narcolepsy and depression. These drugs are sometimes abused to lose weight, stay awake to study, or perform better on exams.
Examples of Steroids are Anadrol and Oxandrin, which can also be prescribed for certain medical conditions; but are abused to increase muscle mass and to improve athletic performance or physical appearance. Serious consequences of abuse can include severe acne, heart disease, liver problems, stroke, infectious diseases, depression, and suicide.
Sources: NJ Division of Consumer Affairs; US Drug Enforcement Administration; NJ Division of Mental Health and Addiction Services; Cape May County Department of Human Services; National Council on Alcoholism and Drug Dependence, Inc.; National Institute on Drug Abuse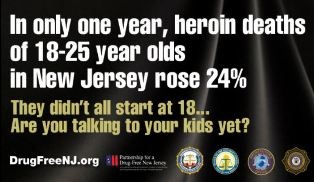 What Is Drug Addiction?
Addiction is a chronic, often relapsing brain disease that causes compulsive drug seeking and use, despite harmful consequences to the addicted individual and to those around him or her. Although the initial decision to take drugs is voluntary for most people, the brain changes that occur over time challenge an addicted person's self control and hamper his or her ability to resist intense impulses to take drugs.
Early Use of Alcohol and other Drugs. Although taking drugs at any age can lead to addiction, research shows that the earlier a person begins to use drugs, the more likely he or she is to develop serious problems. This may reflect the harmful effect that drugs can have on the developing brain; it also may result from a mix of early social and biological vulnerability factors, including unstable family relationships, exposure to physical or sexual abuse, genetic susceptibility, or mental illness. Still, the fact remains that early use is a strong indicator of problems ahead, including addiction.
Source: National Institute on Drug Abuse
Steps We Can Take To Create Change:
Step… Lock up all prescribed medication and monitor utilization.
Step… Properly dispose of unused medications at the end of your regime in local drop boxes. Police Department locations are posted on this website.
Step … Although many events and cultural factors affect drug abuse trends, when youths perceive drug abuse as harmful, they reduce their drug taking. Thus, education and outreach are key in helping youth and the general public understands the risks of drug abuse.
Step …Talk early and often, in developmentally appropriate ways, with children and teens about your concerns—and theirs—regarding alcohol and drugs. Be a good listener. Give clear no-use messages about drugs and alcohol. Let teens know that prescription drugs when misused can be as dangerous as street drugs. Help kids sort out the myths from the facts about alcohol and drugs.
Step … Being involved in the lives of adolescents is key to keeping them safe. Talk with other parents. Work with other parents to monitor where kids are gathering and what they are doing. Are there 'hot spots' in the community where people are using drugs?
Step…Supervise teen activities. Get to know you child's friends. Parents have a big influence on their teens, even when it doesn't seem that way.
Step …Encourage community members to talk about alcohol and drug use and the steps to prevent it. Attend school and community presentations about substance abuse. Check out substance abuse websites/brochures, such as the ones listed in the resource section, for more information.
Step… Ask your doctor to register on 'NJ Prescription Monitoring Program' to monitor overuse of medications.
Signs and Symptoms
Listed below is an excerpt from the "Keeping Your Teens Drug-Free: A Family Guide", Office of National Drug Control Policy/ National Youth Anti-Drug Media Campaign. Parents. The Anti-Drug
It's not always easy to tell when teens are using drugs, because many signs or symptoms are common for youth this age. While there is no single warning sign for drug or alcohol use, some signs to look for include:
• Skipping classes or not doing well in school
• Unusual odors on their clothes or in their room
• Hostility or lack of cooperation
• Physical changes (red eyes, runny nose)
• Borrowing money often, or suddenly having extra cash
• Lack of interest in activities
• Significant mood changes
• Loss of interest in personal appearance
• Change in friends
• Heightened secrecy about actions or possessions
If You Need Help:
NJ Addiction Services Hotline: Call 1-844-276-2777
24 hours a day – 7 days a week
NJ Connect for Recovery: 855-652-3737
For help with addiction to heroin or prescription painkillers
Calls are answered live daily, noon to 8 p.m. Messages left during off hours will be returned the next day.
Multilingual and TTY services are available
Local Treatment Agencies
· Cape Counseling: (609) 465-4100 · Cape Assist: (609) 522-5960
· Families Matter, LLC: (609) 886-8666 · Nancy Crafts Counseling: (609) 465-7788
· Addiction Recovery Systems: (609) 463-0500
Other Resources
· Parent to Parent Support: (856) 983-3328 · Alcoholics Anonymous: (609) 641-8855
· Al-Anon: (800) 344-2666 – CURE: (609) 465-6685
Support & assistance may be available through your physician and through a faith based community.